Business Directory
No listing categories found.
Our school empowers adults, teens, and children with life-skills training through martial arts instruction. Our students develop mental and physical confidence to face life's ups and downs with calm and grace.
JOIN TODAY!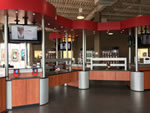 Our Osage Beach location is a full-service store for Verizon Wireless products and service. The newest 4G/LTE smartphones, devices and tablets are available locally in Osage Beach. Come experience the speed of 4G/LTE, pay your bill or get a personalized rate plan analysis. Our Osage Beach reps are standing by to help you.