State Fair Community College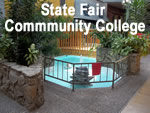 Overview:
SFCC has offered classes and programs at the lake for more than 25 years. In 2005, the college moved to the Stone Crest Mall in Osage Beach and occupies more than 24,000 square feet on the upper level. The space features 15 classrooms, a student commons area, a computer lab, administrative offices, and ample parking.
Programs offered
SFCC offers general education classes (English, math, public speaking, science, ect.) at the lake that lead to an Associate of Arts (AA) degree. The AA degree is designed for transfer to a four-year college or university. This means SFCC-Lake of the Ozarks students can start and complete their AA degree in the same location. AAS degree in a variety of areas are also offered at the LOZ location.